after spending all my extra time, plus some raid time, i finished the jeep, with time to spare,
and headed out to easter jeep safari in moab, utah. if you arent familiar with it, it is the jeep
sturgis, basically. we ran golden spike the first day, a 7 rated trail (lockers, 35" tires, winch
are all required) as my first run on this new jeep. mine only rides on 33" tires, and i know,
most of the ladies will tell you that extra 2" makes all the difference, right? well, not this time!
skill and a tuned suspension set up by the guys at Rokmen.com here in denver let me crawl thru
the whole 35 miles of this trail without a single scratch to the body, and only 2 scratches to the
rear undercarriage from two 3foot drops (very minor at that!)
we started the trail at 8 am, and hit pavement again at 730 pm. we had to leave one jeep on the
trail from a massive break up, one doofus went over on his side (minor scratches only), had 3
broken u-joins all on rear axles (they finished in front wheel drive only, being towed over the major
obstacles. and two broken rear carriers, and somehow, one guy lost his entire brake system. over
all, not bad for the 41 jeeps that made up our group. i had some nice compliments after, since
several of the bigger rigs had major problems getting over the same obstacles that i casually drove
over. i picked a single pic for now and might post more, depends how they look.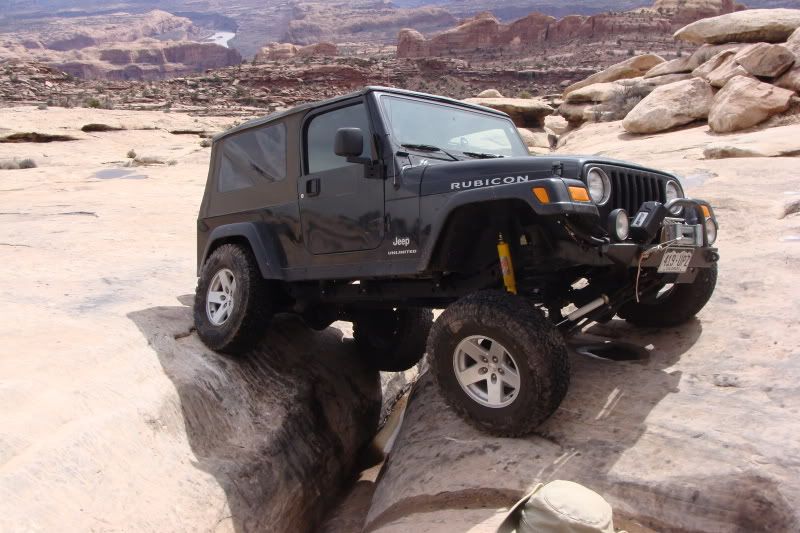 and my friend scott doing the same spot in his jeep
and here is the same spot, with an idiot showing how to look stupid (to jeep people) doing the
same run.