Cinnabun Cinnamon Rolls
SERVES 12
INGREDIENTS
• 1 (1/4 ounce) package dry yeast
• 1 cup warm milk
• 1/2 cup granulated sugar
• 1/3 cup melted butter – and brought to room temperature – (stick butter - salted)
• 2 eggs – beaten
• 5 ½ cups flour – All Purpose flour is highly recommended (Do not sift flour)
FILLING
• 1 cup packed brown sugar
• 2 1/2 tablespoons cinnamon – Saigon Cinnamon is a Must!!
• 1/3 cup butter, melted (stick butter – salted)
• 2 tablespoons of flour
ICING
• ½ cup margarine – I used Shed Spread
• 1 1/2 cups powdered sugar
• 1/4 cup cream cheese
• 1/2 teaspoon vanilla
• 1/8 teaspoon salt
1. For the rolls, (dissolve the yeast according to the package in 1/4 warm water between 100 - 110 degrees) and let rest for 5 – 10 minutes,
2. In a large bowl combine – sugar, butter (melted), eggs, flour, and yeast – Mix well
3. Knead the dough into a large ball, using your hands dusted lightly with flour. – keep a small amount of flour on hand (3/4 to a cup) if the dough is too sticky and add a small amount at a time – not too much but enough to make it easier to work with.
4. Put in a bowl, cover and let rise in a warm place about 1 hour or until the dough has doubled in size.
Note: Form the dough into a ball and try to make sure the top is smooth so the gasses stay trapped in the dough while rising, any gasses that escape will prevent the dough from rising effectively. I placed my dough in a metal or glass bowl with a towel over the top and let it rise in the oven.
Placed it in a metal or glass bowl with a towel over the top and put it into the oven. Set the temp to 200 and waited 10 minutes and turned it off, letting the dough rise until double in size – slightly over an hour.
5. Once the dough has doubled in size – punch down softly to remove gasses and roll the dough out on a lightly floured surface, until it is approx 21 inches long by 16 inches wide and should be approx 1/4 thick.
6. To make filling, combine the brown sugar, flour and cinnamon in a bowl – in a separate dish melt 1/3 cup butter in the microwave for 30 seconds on high
7. Roll the dough working carefully, from the long edge, roll the dough down to the bottom edge.
Note: I rolled my dough out onto a rolling sheet, which made it easier to roll the dough at the end. You just grab the side closest to you, and slowly lift and roll at the same time until it's completely rolled up. Then I transferred to parchment paper to cut. I placed the open end of the roll on the bottom for cutting.
8. Spread the melted butter over the surface of the dough, and then sprinkle the brown sugar, flour and cinnamon mixture evenly over the surface. (I lightly sprinkled an additional 1 – 2 tablespoons of flour over the sugar mixture to help prevent a lot of the brown sugar from leaking down and burning on the bottom of the pan).
9. Cut the dough into 1 ½ inch slices, and place in a lightly greased baking pan. 9 x 13 inch baking pan works perfect for 12 rolls. Extra pieces can be placed into an 8x8 inch-baking pan.
Note: If you don't like the ultra-gooey sticky buns in the middle? You can use jumbo size muffin cups to bake these or small loaf pans – allowing about 3 inches or so in diameter in each direction for these to rise and bake.
10. Let rise in warm oven – uncovered for an additional 30 – 45 minutes or until doubled in size – remove from oven before preheating to bake.
11. Preheat oven to 370 degrees.
12. Bake for 15 minutes or until light golden brown. If you use a glass baking dish you will need to bake them slightly longer – this is where you would use your judgment.
13. While the rolls are baking combine the icing ingredients - Beat well with an electric mixer until fluffy.
14. When the rolls are done, spread generously with icing. – you will have leftover icing
The secret to the flavor!! Cinnabun uses Korintje cinnamon, which is a high quality cinnamon you can purchase from them, if it's is convenient. However, you can use Saigon (an imported Vietnamese cinnamon), which has the highest essential oil levels of 7% of all available cinnamons on the world market. McCormick markets it here in the states and can be found at some grocery stores. Cinnamon that has been hanging out in your cupboard for years will work in these rolls, but you will miss out on the finest of flavors and will be surprised that you have something missing. So take some time and a very small investment and get the finest cinnamon you can, because you will be glad you did.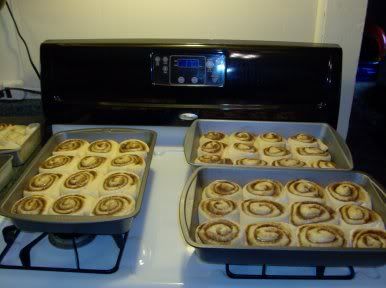 The finished Product -